So the boyfriend has decided that he wants to be more involved this year (he has even offered to learn how to sew!) and so I am not only planning for myself but for him as well. The line up of events are
Thursday Pool Party: The Realm of the Goblin King
Friday Night Social: A Princess in Paris
Saturday Night Gala: The Royal Coronation Ball
Sunday Breakfast: A Royal Breakfast (Morning after the Royal Wedding)
Sunday Tea: Victoria's Fancy Dress Tea (Circa. 1897)
My Plans?
1840's German Dress from Truly Victorian
I am at a loss for the pool party. I think maybe something from Lord of the Rings but the jury is still out.
Barn Owl dress for the Pool Party, comment if you get the reference. For Friday during classes I am thinking something 1910's because I still plan on making my 1913 dance dress for the Friday Night Social. Saturday during classes will be my Jane Eyre Dress and a late 1830's early 1840's ball gown for the Coronation Ball. Queen Victoria's Coronation was in 1838 so I'm ok with an early 1840's dress. If the boyfriend and I stay in the hotel where CoCo is going to be then I might pull out my wrapper again for Sunday morning but if not I don't have to worry about the breakfast. I had plans to make my 1890's mountain dress for Sunday (a combination of the Ageless Patterns pattern and then the Truly Victorian Split Skirt) but with a Fancy Dress theme for the Tea (which I will not actually attend) I am tempted to make something else and maybe use the mountain dress on Friday instead of making a 1910's outfit. Obviously this is all open to change but this is a good place to keep track of my ideas.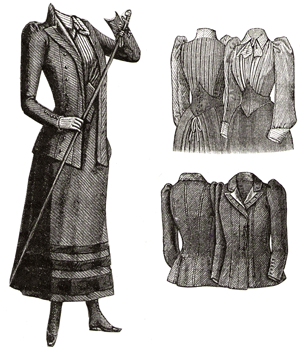 Mountain Dress from Agelesspatterns.com
And now for boyfriend..... Still at a loss for the pool party, if he even wants to attend that with me, he may just feed me to the fishes.
For the Friday night social I am going to make him a vest to match my dress and he can wear a modern suit or look for something else.
Bummed that he actually cannot attend the event but I might still make him the vest and then we can go out to dinner somewhere looking fancy. For Saturday he has hinted at an 18th Century outfit so that would be breeches, shirt, waistcoat, and frock coat.
Now he just needs to narrow it down to early, mid or late.
He has narrowed it down to British Royal Navy 1740's and he wants to be a Captain. For the Breakfast it would be nice to make a Banyan if he wants to stick to 18th Century or a nice smoking jacket / dressing gown for a 19th Century look but again this is only if we stay at the Marriott.