So here is my secret announcement..... I'm going to Costume College 2017! I'm super excited and have everything planned out in a little journal that is pasted with fabric and trim options, original inspirations, and pattern choices. I'll keep everyone updated as I go, but for now I'm working on my Jane Eyre costume. "
I'll be married in this lilac gingham: you may make a dressing-gown for yourself out of the pearl-grey silk, and an infinite series of waistcoats out of the black satin." That
is the only line in the book
referencing
her lilac gingham dress. Since there isn't anything else to go on I am starting with
Truly Victorian's 1845 German Day Dress pattern. I might change it to look more like this dress from the Amsterdam Museum but I haven't decided yet. My fabric is 100% cotton Wide Width 1/16 in.Gingham Check Purple from Fabric.com.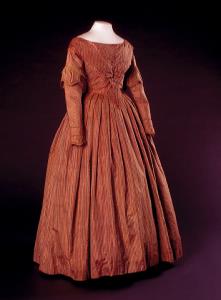 Obviously underclothing is in order as I've never sewn anything from this period before. I am taking my shift, drawers petticoats, bum pad and pocket from the Workwoman's Guide. My stays are coming from Corsets: Historical Patterns and Techniques by Jill Salen. I am using the Rural Corded Corset Pattern ( I was going to use the Corded Taffeta Corset Pattern but that one has bust and hip gores and as this is my first pair of stays ever! I am going to go with the simpler design.) Also can I just protest Salen's use of Corset for her stays dating from the 18th Century to the mid 19th Century? Anyway, moving on..... I bought a Brushed Twill in Tan for the outside of the stays, it is a little darker that I would have liked but I was thinking of these stays from the MET. (Not that I'm going to do the embroidery because those are skills I don't have, though a little something might be nice but I'm not planning on it.)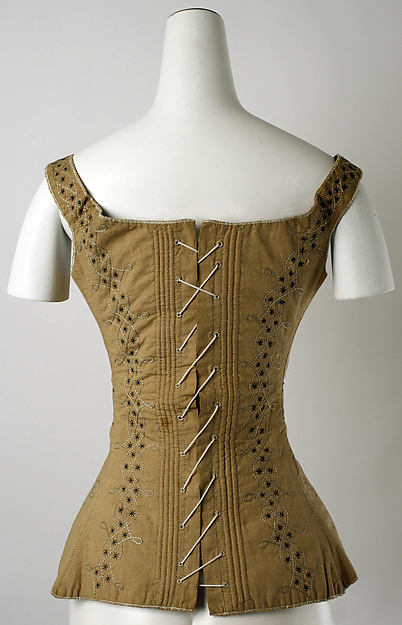 Back of Woman's Corset (Stays)
And the inner layer will be of left over Rockland 45" Cotton Duck Natural that I used to interline my Ravenclaw Renaissance bodice. I know linen in more period to line stays but it is also more expensive and using part of the Stash is a good thing. The one this I know I want to add is fan lacing. Fan lacing makes lacing ones stays or corset easier if you are alone. (If only I had some servants to dress me, but this would actually drive me insane so it's best that I don't have someone to do that.) The rest of the undergarments are going to be made out of Muslin. Happily my insanity coincides with the Historical Sew Monthly's October Challenge: Heros. Since Jane Eyre is one of my literary heros I can hopefully use this outfit for the Challenge, Halloween and Costume College. Oh and before I forget to mention it, my shoes will be American' Duchess' Gettysburg Victorian Side-Lace Boots.
I have the Gettysburgs and two other pairs of shoes for Costume College on layaway (Thank You Bastille Day Sale) so I might not have them for Halloween but that's not going to worry me at all. In addition I will need stockings, a day cap and a bonnet. I can pattern the day cap and bonnet from the Workwoman's Guide but I also have another bonnet diagram that I might use instead. I may also need cuffs and a collar or chemisette for the dress depending on which style I go with